Comet Western Model Airplane Company by Alan Mironer
The distributor was the key link between the model airplane manufacturer and the hobby shop. The large number of different model airplane kit and engine manufacturers realized in the mid-1930s that it was more efficient and less costly to send their products to a limited number of strategically located distribution centers than attempt to individually service the tens of thousands of hobby shops and other retail model sales outlets scattered throughout the country.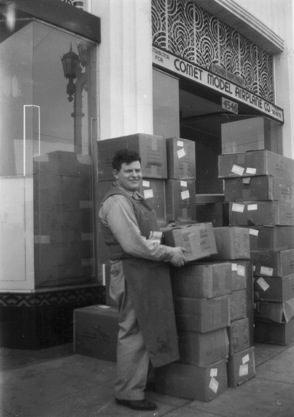 In 1933 Edward Kapitanoff began wholesaling Comet model kits from a storefront in Hollywood, CA. He had a connection with Comet through his cousin, Louis Kapp, one of Comet's three founders and had briefly worked for Kapp in Comet's sales department. He called his business Comet Western Model Airplane Company and was designated by Comet as their exclusive distributor in the Los Angeles area.
The War greatly increased youth interest in aviation which was expressed in a burst of model airplane building. Riding this wave and with the entree of exclusive distributorship of Comet products, Comet Western extended its market throughout the eleven states west of the Rockies. By 1942 Comet Western had moved to larger quarters in Los Angeles and opened a second office/warehouse in Oakland, CA. A cadre of salesmen regularly visited model stores showing samples and explaining new products. The Comet line now included identification and warship models. Comet Western also added other manufacturers to its product line, but Comet remained its mainstay. Comet Western now distributed Cleveland, Berkeley, Megow, Scientific, Capitol, Eagle, Cadet, Ray, Strombecker, Maircraft, Falcon, Burkard, Aircraft, Pioneer, Consolidated, C-Z, Ideal ships and HO gauge railway buildings, and the Wright-Dayton Wallis Rigby-designed paper FlyAway models line; also, Ohlsson, Bunch, Elf, Atom, Forster, and Rogers engines until the War's critical materials shortages choked off their manufacture.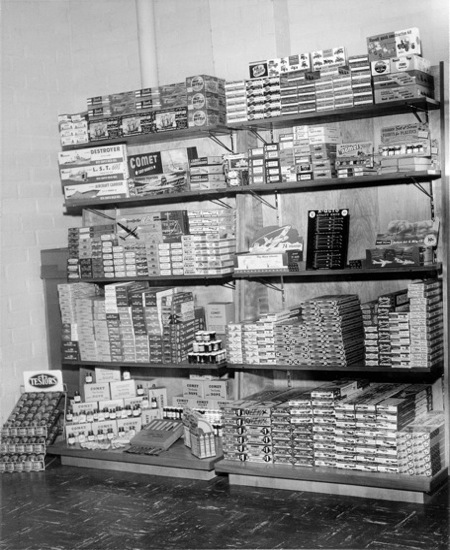 By the end of the War the Company, renamed Western Model Distributors, had diversified so widely that balsa model airplane kits and supplies comprised only a small part of their business. The Company now distributed the increasingly popular plastic model kits, educational kits such as Gilbert Erector and Chemistry sets, various train sets and supplies, and arts & craft supplies. By the time of its 30th anniversary it was distributing some 10,000 different items.

This article is based on information provided by Nancy Kapitanoff, the daughter of Edward Kapitanoff.

This article appears in the June 2008 issue of KAPA KOLLECTOR